The fondant created with this recipe is soft and pliable, with just the right amount of stretch, it is perfect for sealing and decorating cakes. The fondant will store for a couple of weeks in a sealed container in the fridge or freezer.
I also use it for some modelled flowers and to model figures.
For flowers, you should use modelling paste, flower paste or Mexican paste, but I occasionally get lazy and find it works surprisingly well with a pinch of tylose and a small amount of vegetable shortening. A ratio of 4:1 fondant to Mexican paste makes excellent paste for sculpting super detailed figures.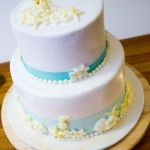 On a side note, the weather gets pretty interesting December through to February in Australia. As a general rule do not try to cover a very cold cake straight from the fridge with fondant on humid or overly hot days and never with an evaporative air conditioner in operation as the extra moisture in the air will turn your icing to slush.  All the cakes pictured on this post have been decorated using my homemade fondant recipe.
The best tip for perfect fondant every time is weigh everything, this removes the variation and ensures consistent results. Due to differences in eggs and how compact the icing sugar is in the cup measure, I was getting mixed results until I started weighing the ingredients and recording results.
Weigh everything, it is the key to making a consistent product.
Using actiwhite powdered egg whites also produces a more uniform product that is shelf stable with none of the potential issues of fresh egg whites, but I still use fresh egg whites for family cakes if I have them left over in the fridge. Fondant made with powdered whites and stored in an airtight container will last a very, very long time in the fridge and even longer if vacuum sealed and stored in the freezer.
Recipe Below
Rollout Fondant Icing Recipe
*Special note: Different brands of Tylose/CMC are very different. I'm used to using the cheapest CMC I can find. The first time you make this recipe start with half to 3/4 of the recommended amount of tylose and add more as needed. record the result for whatever brand you are using. 
Ingredients
To make 4.4kg of fondant
3.5kg pure icing sugar weighed and sifted.
10 tsp cmc/ tylose powder (45g)
1 tsp cream of tartar (5g)
26g actiwhite -Egg white powder  (Or omit the water and use 222g pasturised egg whites)
196 g water
420g corn syrup
3.5 tsp glycerine (20g) Buy from a cake supplies shop or Pharmacy if not available at the supermarket.
230g crisco, copha or snow cream at room temp.
A drop of vanilla extract
Small batch ingredient quantities:
500g pure icing sugar – sifted
31g pasteurized egg whites (or 4g actiwhite and 28g water)
60g Corn syrup
1 teaspoon CMC or Tylose powder (5g)
1-2 tablespoons of crisco or similar solid vegetable shortening (33g)
1/4 teaspoon of Glycerine
Thrifty Tip:
Karo corn syrup is great, but you can find Korean corn syrup at your local Asian Grocer for a lot less, I buy 5 litres for $15-$22.
Method
Sift icing sugar, actiwhite and tylose into a bowl.
Make a well in the icing sugar and then pour in the syrup, glycerine and water or egg white. Mix with a blunt metal butter knife, (I mix with one of these but feel free to use whatever you prefer) until as much of the wet mix has been combined as possible without having to exert too much force.
Transfer mixture and all of the not yet combined icing sugar onto a bench smeared with crisco or vegetable shortening and knead all together until smooth and mouldable, this takes a lot of effort.
Add a few drops of colour and essence now then knead through.
Once the mixture is well combined, knead the remaining shortening into the fondant then and alternate between stretching and kneading the fondant like toffee until the texture is perfect.
Cover in cling film and set aside for 20 minutes before using, keep wrapped until ready to use. After resting, cool fondant sometimes loses its stretchiness, pop it in the microwave for 10-15 seconds and knead it with a tiny amount of crisco until it is stretchy again.
Lightly dust your work surface with icing sugar before rolling out. If the fondant becomes dry or brittle or forms a rough crocodile-like skin when rolled out, it can be refreshed by working in a tiny amount of shortening, smear it very thinly on the work surface and knead it through. 
Rolling with Icing sugar instead of cornflour results in less chance of crazing or crocodile skin on your fondant and does not leave white marks on your coloured fondant.
I have had a lot of success using this mixture for basic figures and modelling. For finer work and models, add about 1/2 teaspoon of tylose for every 300g of fondant, you can refresh the mix with a tiny amount of shortening or a very tiny amount of water if it begins to dry out  too quickly. Do not over knead the fondant when you are colouring it or you can dry the fondant and affect the texture. 
Smaller amounts can be coloured from white to very dark by balancing the amount of liquid added from the gel paste colour with tylose or CMC. Or make up the water weight with Gel paste colours when weighing out the ingredients. 
Black fondant recipe below
Well prepared fruitcake, painted with alcohol, sealed with marzipan and fondant can keep for years. I wouldn't eat the icing after that much time… but the underlying cake is very well preserved… if you're brave…. My Christmas cakes are usually kept in cellophane until ready to be eaten, this can be up to a month, once opened I keep them in a sealed container. Also, once completely dried out, figures and sculptures made with this fondant will last practically forever.
Here is the whole process start to finish in 10 minutes:
New video showing process from start to finish, sped up with the microwave and also showing the Pastaline Maxi Sfogly Fondant sheeter in action. 
Old video, but still some good info in there
Black (or Dark Red) Fondant recipe
Making black Fondant.
Here's the final corrected and complete recipe for a delicious, perfect black or dark red/maroon fondant. (For bright red reduce the cocoa weight to 20g and increase the icing sugar to 1730g)
1650g pure icing sugar
100g cocoa powder (replace half the cocoa weight with icing sugar if making red)
1tsp cream of tartar
13g of actiwhite or powdered egg white
98g water
210g corn syrup
1.5tsp glycerin
125g copha or Crisco solid vegetable fat
5tsp CMC or tylose
35g black or red gel paste colour
Makes 2.25kg of black fondant
Roughly covering a ganached cake, with homemade fondant – very quickly.