Hi, I'm Robert Harwood. I'm a home baker, and cake decorating teacher from Western Australia. I have a background in IT and adult education, and I now work for Bake Boss Australia managing the Malaga Store.
My passion is learning and teaching new techniques and testing and developing recipes. I'm time poor and pretty frugal… so I love to do things from scratch, and to find ways to do things better, faster, easier and at a lower cost, while maintaining a professional finish.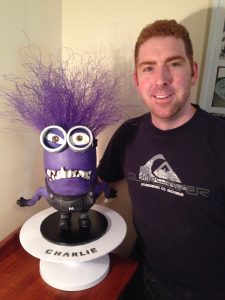 Most of my bakes are late night experiments for close friends and family, but I constantly research, tinker, test and refine my recipes and techniques.
I do a lot of cake decorating and cooking demos and workshops, especially for local cake clubs and love writing tutorials and recipes for various sites and publications.
Please get in contact if you would like to enquire about booking me for a workshop or demo or would like to publish from this site.
I studied Biomedical science Applied chemistry at uni, so I take an overly methodical approach to testing and creating recipes. I'm especially proud of my homemade fondant recipe; being able to make fondant myself means that if I need to cover a cake I can make as much fondant as I need from scratch in under 10 minutes, so I'm never caught short on the weekends or late at night if I'm working on a project.
My favourite medium to work with is homemade modelling chocolate. My Recipe and tips for making and working with modelling chocolate are on the site, and I'll add several more tutorials to the site when I get time.
Although I'm more of a home cook, my methodical approach to problem solving means I've got enough tried and tested knowledge to be able to share.
See calendar of events for more details about what I'm up to and where I've been.
Here are a few of the more notable bits from the last few years
I've done demonstrations for BakeBoss before working for them, The Cake Decorators Association of WA, very briefly appeared in the top 40 on Masterchef 2016. I've demonstrated for the Queensland (2018) State seminar and Tasmanian (2020) state seminar and at the National ANCDA seminars in 2017 and 2019.
I'm a regular contributor to the Australian Sugarcraft Magazine.
I was a Contestant on The Great Australian Bake Off, Season Three on Foxtel's Lifestyle channel in January 2018 I made it to episode 7 of 10. I'm especially proud of my 1 hour classic puff pastry and baking a 5 layer sculpted cake with a homemade modelling chocolate in 4 hours.
Please get in contact if you would like to inquire about booking me for a workshop or demo or would like to publish from this site.
My most Common Demos/workshops:
Making Macarons
Making Homemade fondant
Making Homemade modelling chocolate
Homemade flower paste (Mexican paste)
How to work with and sculpt modelling chocolate
How to sculpt a human figure in chocolate without moulds
How to sculpt a face in modelling chocolate without moulds
Making the most of moulds for fast and orignal sucplted figures
How to make super detailed sugar roses and other flowers.
How to make large, detailed modelling chocolate roses in under 5 minutes
2-minute modelling chocolate filler roses
Ultra-detailed roses and peonies and orchids in under 20 minutes with modelling chocolate
Make and work with Basic buttercream
Make and work with Italian meringue buttercream
How to make and work with chocolate ganache
Painting with cocoa butter
Cover a cake with buttercream
Cover a cake with ganache
Cover a cake with fondant
Make and work with royal icing
Make fast parchment piping bags
Decorated cookies – fondant and royal icing
Layered stenciling with buttercream on Buttercream
All edible sculpted modern Dolly Varden cake chocolate or fondant
Use Tappits or ClickStix to make banners in modelling chocolate or fondant
Fast borders and how to get the best results from moulds using fondant or modelling chocolate