Caramel mud cake with salted caramel ganache filling
This dense, but moist and tender mud cake that can be chilled and carved easily. Its flavour and texture are versatile, allowing it to be made mixed with other fillings and toppings. The ganache recipe included is also a versatile filling and works great with other recipes.
Makes 1 deep 8" round cake serves approx. 16 slice or 30 one-inch square pieces. – This recipe can be doubled or tripled easily and scales smoothly without issues.
Caramel mud cake Ingredients
Measure all ingredients by weight for the best result
255g White chocolate – Cadbury dream or good white compound chocolate like Callebaut or nestle baker's white melts.
75g Butter
42g Sunflower Oil
225 Milk
140g Light Brown Sugar (Dark brown will give a darker colour and a denser cake and tastes more like brown sugar).
100g Eggs, lightly beaten with a fork then measured. (approx. 2 eggs)
215g Cake Flour – (low protein, soft flour)
1.5 tsp Baking powder
¾ tsp of Table salt
¾ tsp of natural Vanilla extract 
Line an 8" cake tin on the bottom and sides with baking paper, spray with canola oil.

Here's a video showing how I line cake pans. There are better ways, but this works. https://www.youtube.com/watch?v=PRBpKI3eQz0
Preheat oven to 150C.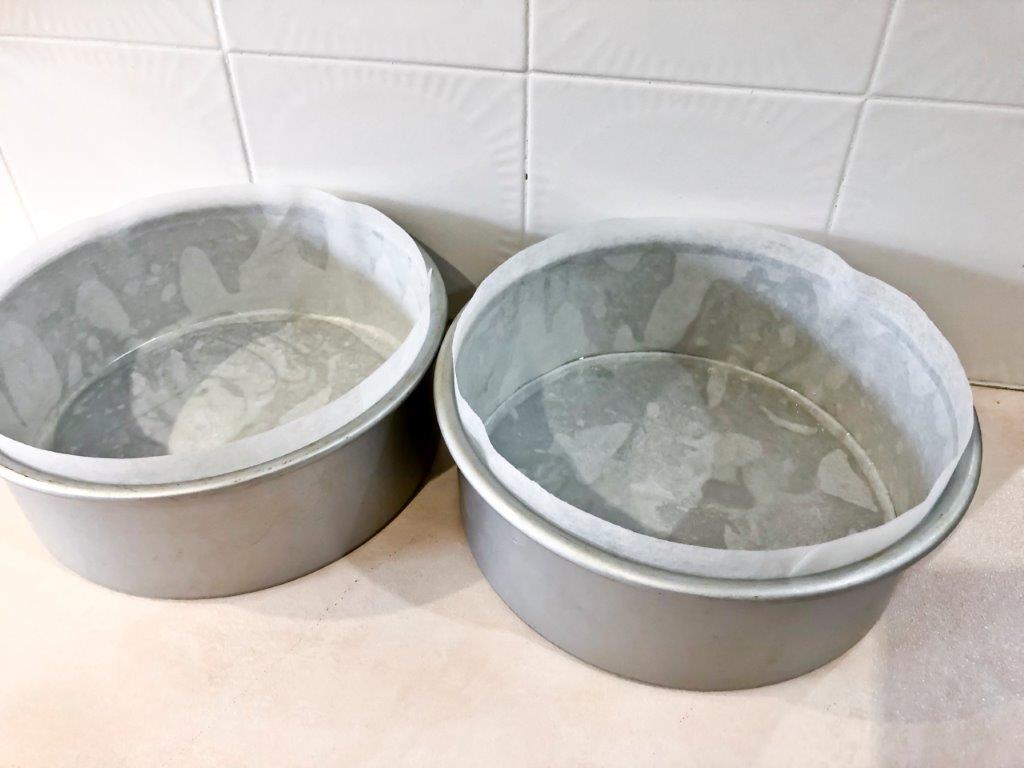 To a large heavy based pot add broken up chocolate (or buttons), cubed butter, oil, milk, sugar, salt and vanilla. 

Heat over very low heat, stirring regularly to prevent the chocolate from burning, until all ingredients are melted together. 
Remove from the heat and allow to cool to until just a little warmer than body temperature.

Sift flour and baking powder into a large bowl. 
Crack two eggs into a small bowl and beat for a few seconds with a fork to break them up. 
Measure 100g of the beaten eggs and pour into the cooled mixture, whisking to incorporate them. 
Make a well in the flour, pour in one-third of the liquid mix. Mix together with a large whisk until nearly smooth. 
Pour in another third and whisk until there are no lumps of flour. 
Pour in the remaining liquid and whisk the batter until it is smooth, scrape down the bowl with a spatula and whisk until smooth. 
Try to keep the total amount of whisking under 2 minutes. Using cake flour allows a lot more mixing of the batter before it becomes tough, it also means that it actually needs close to two minutes of mixing to build a good structure. 
Fill the lined cake tin with the batter and bake in the oven for an hour. 
This recipe bakes quite evenly, it's not at all necessary but it can be made to bake even more level by using baking strips or by loosely laying a sheet of foil over the top of the pan. Check the cakes at the 50 minute mark, the cake is cooked when the top springs back when it is gently pressed or when a skewer comes out completely clean, this is usually after 60 minutes, but every oven is different and bake strips and variations in ovens will change the time a little. 
When the cake is cooked, take it out of the oven and tap the bottom of the tin firmly. against protected bench top. Tapping the cake sharply when it first comes out of the oven prevents the sides from warping and the top from shrinking inwards while the cake is cooling in the tin.
 Let it sit for 5 minutes covered with a clean tea towel to cool in the cake tin before laying a sheet of baking paper on over it then placing a cooling rack on top and turning it upside down. Turning it out this way helps to flatten out the bump. 
Remove the tin and the baking paper from the sides and allow the cake to cool for 15 minutes before wrapping it gently in cling wrap and popping it in the freezer to cool. Lay cling film over the cake then flip it and fold the wrap over to seal the cake. 
The wrapped, rapid cooling traps moisture in the cake and results in a more tender cake. Once the cake is chilled through, level it if necessary, then cut into two layers. 
Once cold, the cake can be handled a lot easier. Chilled mud cake it can be levelled, carved and layered very easily. The cake is very tender and very brittle when it's warm, so do not skip chilling it through before handling it.
Paint the layers with simple syrup, or caramel syrup then assemble with a thin layer of salted caramel ganache in between.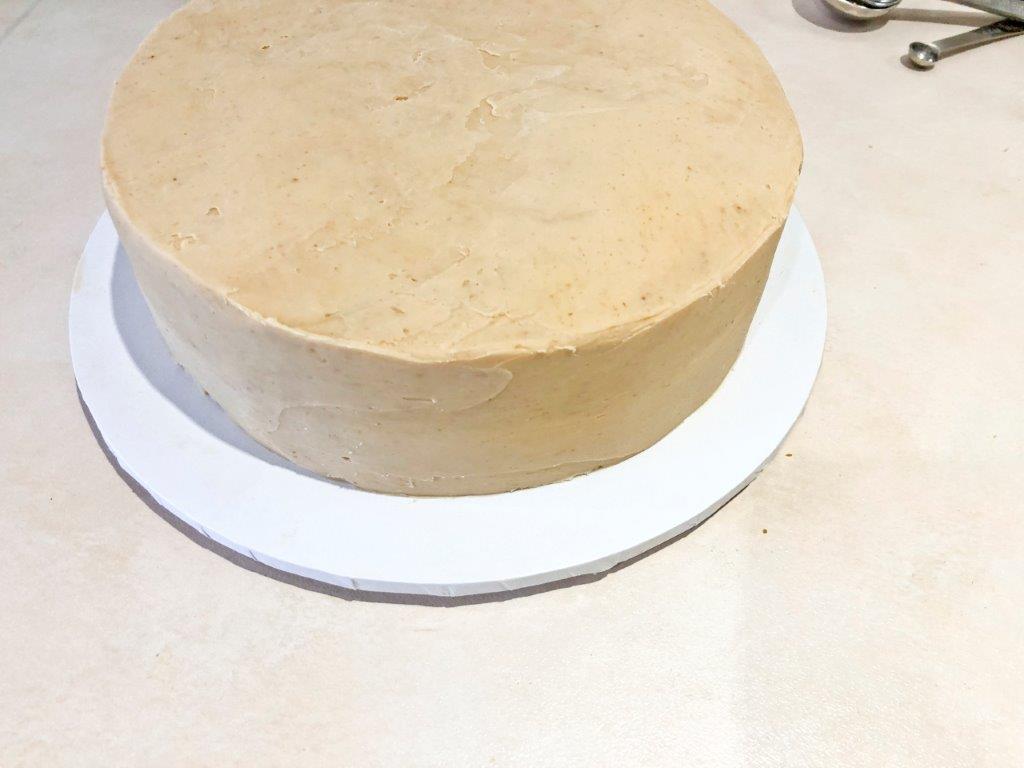 Side note about cake flour
Lower protein cake flour forms gluten strands that make batters tough much more slowly than regular plain flour. It really makes a difference, most large supermarkets in Australia carry lighthouse brand cake flour.
It is worth finding and using cake flour but if it's just not available a substitute can be made by measuring out a cup of plain flour and removing 2 tablespoons of plain flour and adding back 2 tablespoons of cornflour. Sift the flours together a few times. The cornflour lowers the overall protein level and interrupts the formation of the gluten strands in the batter. This substitute works reasonably well but cake flour is always going to be superior.
Salted Caramel Ganache Recipe
This is an unusual recipe, it took several trial runs and lot of experimenting to get a stable caramel ganache that is not prone to splitting. It uses a milk thinned caramel instead of cream which results in a more stable ganache. Great as a filling and as a covering, this is an extra delicious filling and covering. 
Ingredients
Caramel milk Syrup
100g Caster Sugar
150g milk, hilo or full cream milk (do not use cream)
Firm Ganache for covering or stacking tall layers
110 Caramel milk syrup
450 white chocolate or good white compound chocolate
1/3 – ½  tsp of course salt – to taste.
Alternative ratio:
Soft gooey ganache for fillings, softer option not as good for extra tall cakes.
140g Caramel milk syrup
450g chocolate
1/3 – ½  tsp of coarse salt – to taste.
Method
Caramel Milk Syrup
Measure the milk into a jug, so it's easy to pour into the hot sugar.
Add sugar to a heavy based pot, the pot needs to be just big enough for the sugar to cover the base in a ¼ cm thick layer. Heat the dry sugar on high until the edges begin to melt.
Use a whisk to start pulling the melted browning edges into the middle of the pot gently.
Continue gently stirring the melted sugar into the middle, stirring gently until all the sugar is melted. Once it is melted the sugar will go from a light amber colour to burnt very quickly.
Keep gently stirring until the sugar goes a deep red colour.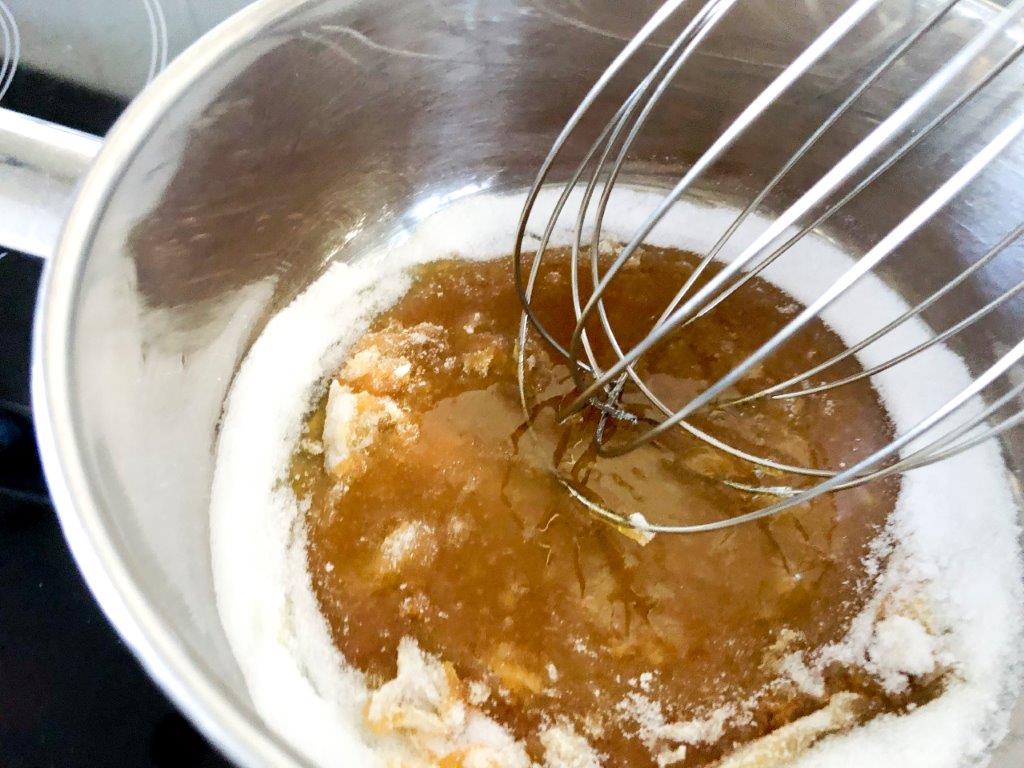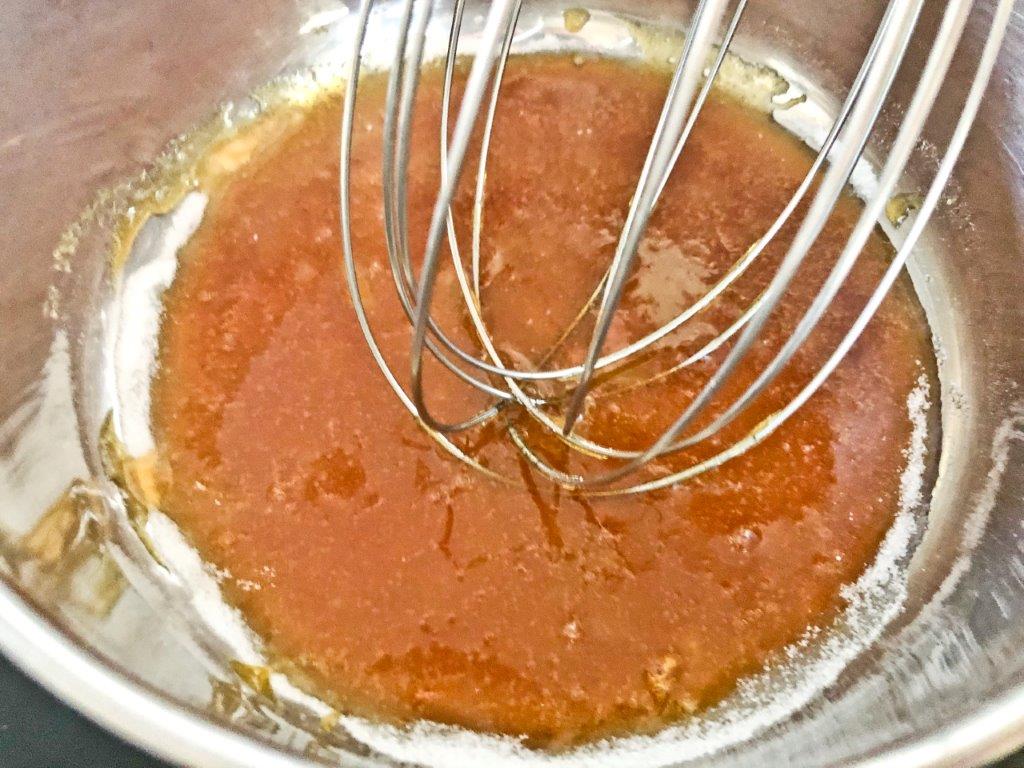 Pour in about a quarter of the milk, while whisking fast to prevent the mix boiling over and to help knock some of the heat out, continue adding the milk in small additions, take it off the heat and continue adding and whisking until all the milk is incorporated. Allow the syrup to cool.
There will be a fair amount cooked milk solids, the solids will settle and the syrup can be poured off. The milk solids will not affect the texture of the finished ganache, they don't have a noticeable impact on flavour.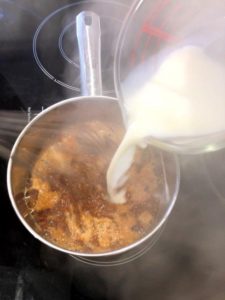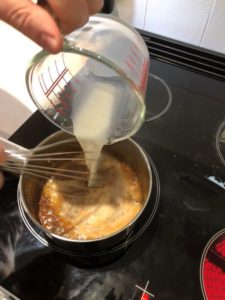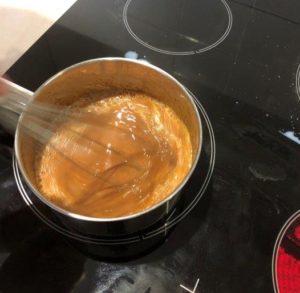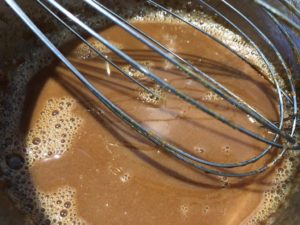 Ganache Method
Weigh out the chocolate, weigh the cooled syrup and pour on top of the chocolate. Keep the left over syrup to paint the layered cakes before assembling. Heat in the microwave in 30 second bursts mixing well until all the chocolate is melted. Do not overheat. 
Taste and add more salt if needed, pour into a tray and refrigerate until set, (the gooey version will not set firm). Use straight from the pan or if it's too set scrape into small bowl and heat in 3-5 second bursts, work it with a spatula until it has the consistency of peanut butter. Once you have the correct consistency fill or ganache the cake as usual.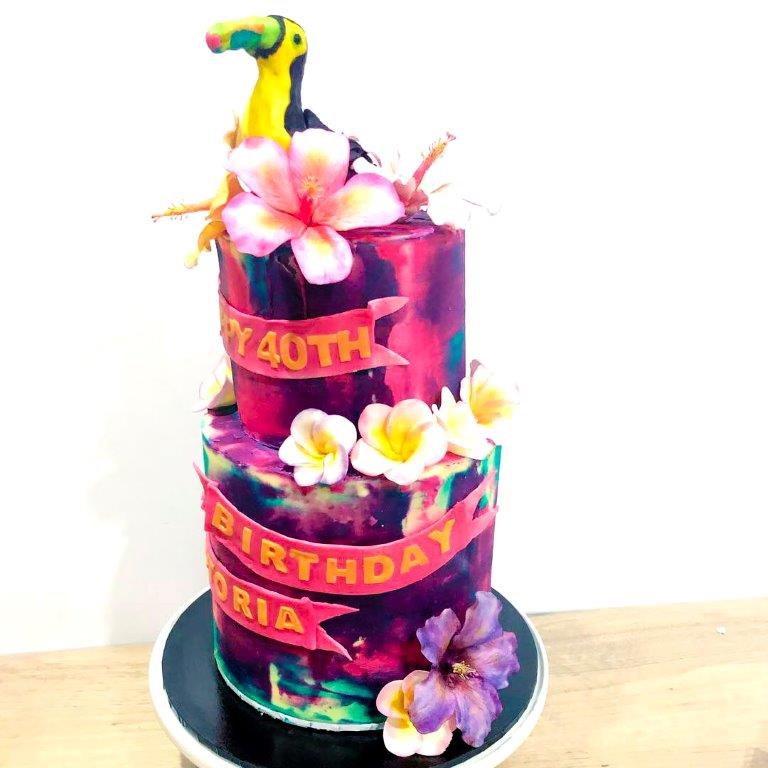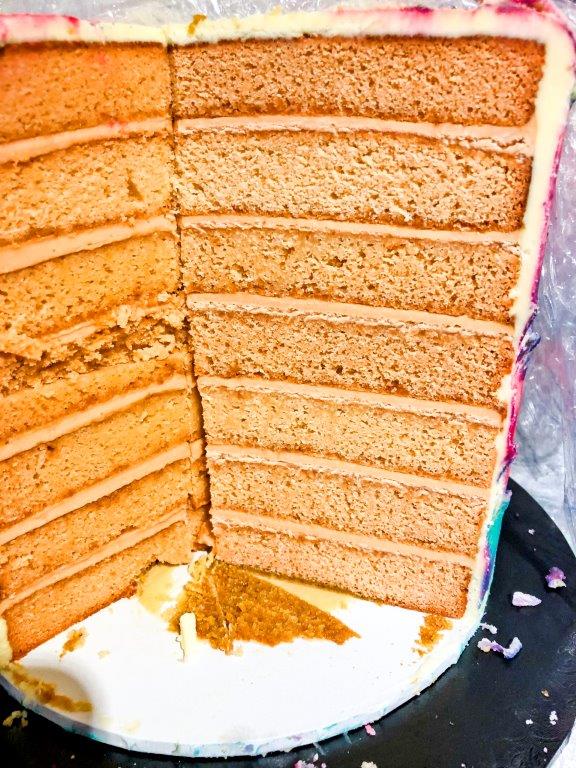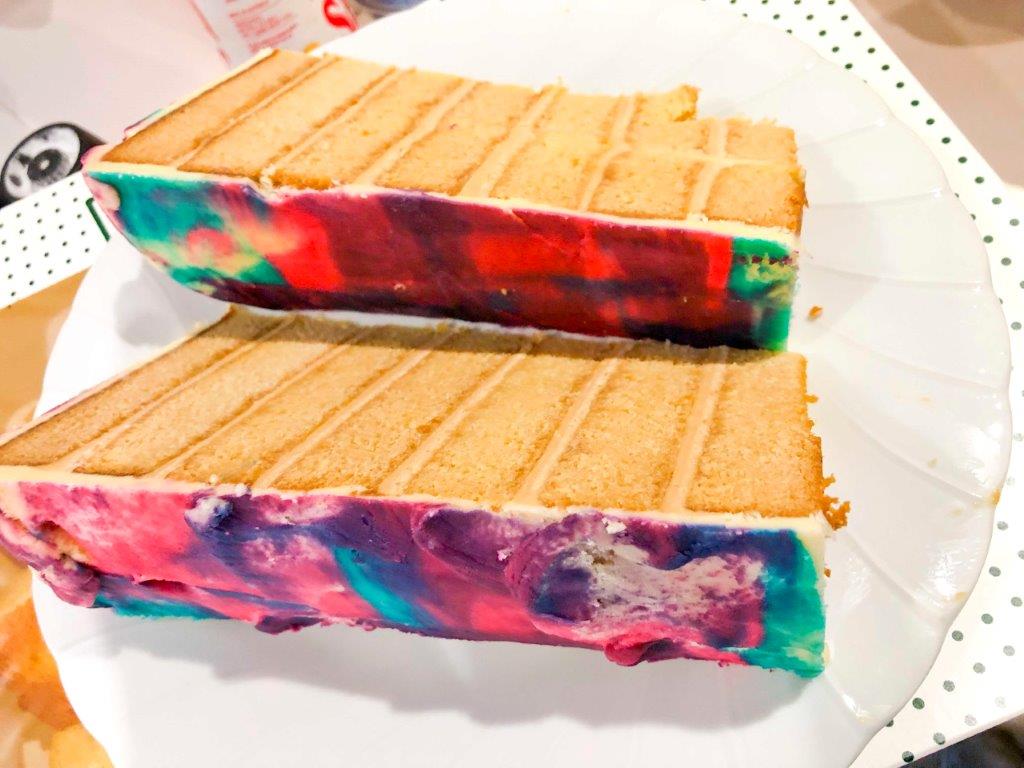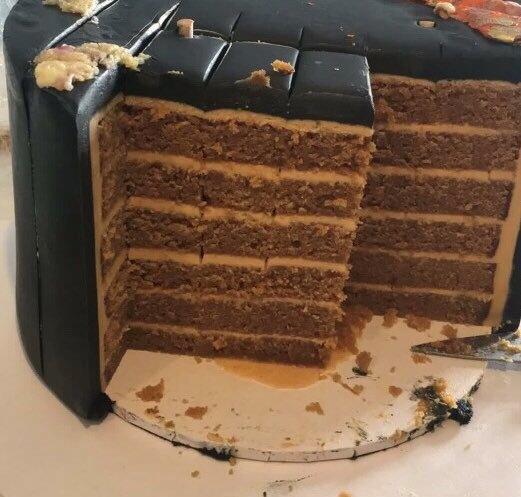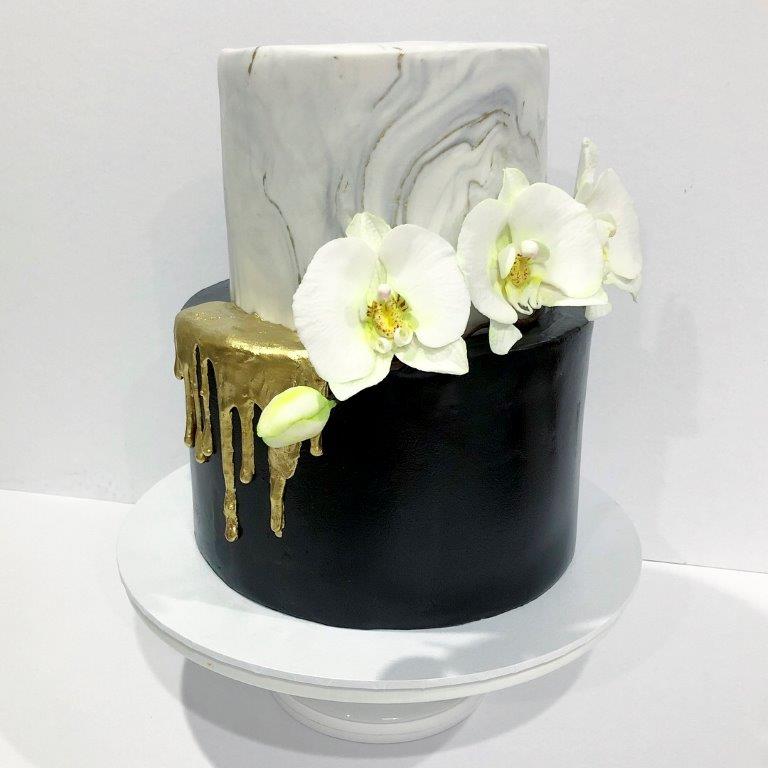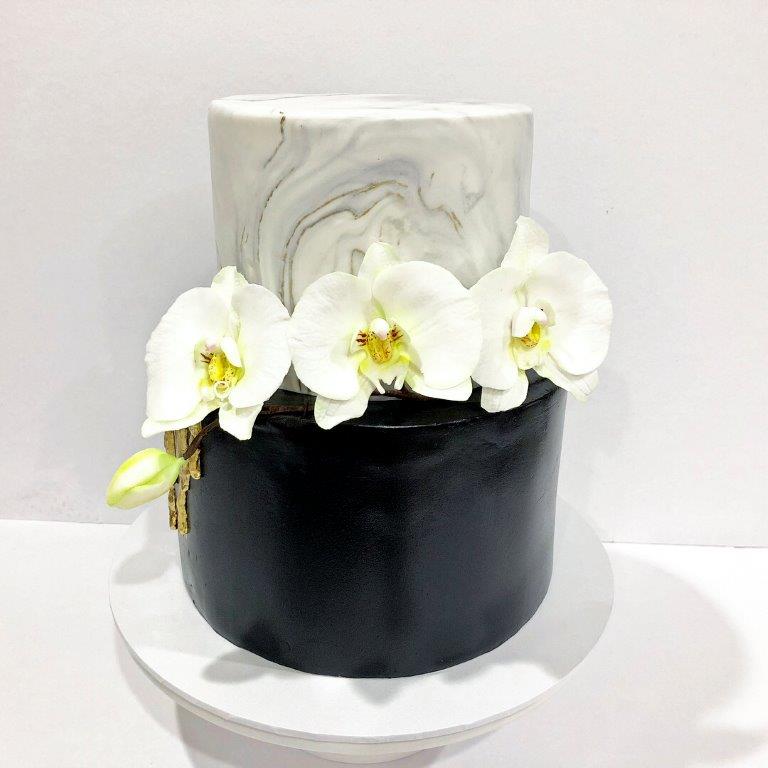 Cake photos are a dark caramel mud cake with salted caramel ganache filling covered in salted fondant. Mexican paste orchids made by me.
The toucan one is a light caramel mud cake (I ran out of brown sugar so used ¼ the amount brown sugar with the rest made up with caster sugar) with salted caramel ganache filling covered with a thin layer of brightly coloured basic buttercream, the decorations are Mexican paste flowers with a modelling chocolate toucan.